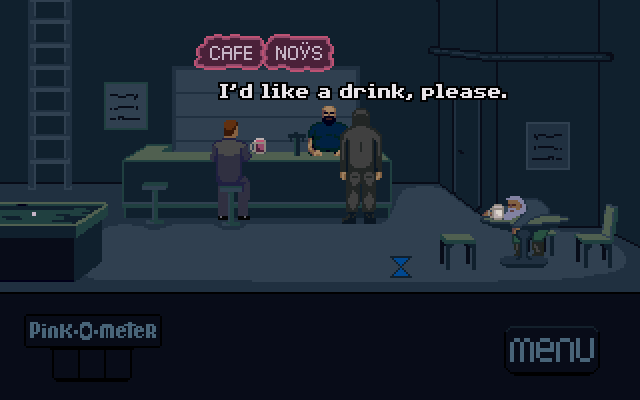 Released: 2014-01
A journey in a snowy landscape featuring mysterious Pink infused hallucinations.
Don't Drink the Pink is a short point-and-click adventure game made in the image of the golden age classics of the genre.
The game was submitted to and won the January 2014 MAGS competition "Something Cold, Something Burrowed, Something Pink."
MAGS is a monthly competition for amateur adventure game makers using Adventure Game Studio (AGS). The idea is to create a game in under a month, following the rules set by the previous winner. More information about the January 2014 competition and entries can found from here: www.adventuregamestudio.co.uk/forums/index.php?topic=49773.0
So, if you're up for a little adventure and imagine yourself enjoying a story about a man, few pints of pink and occasional elephants, just click on the download link.
Install instructions
Unzip full contents of the .zip file to anywhere on your computer
Run winsetup.exe to change settings
Run executable to play
Windows SmartScreen and Avast are sometimes know to have issues with AGS games and editor. Check the forum if you're experiencing problems.
Credits
Everything except music: Raimo Peterson
Music and testing: Riho Peterson
Testing by AGS forum members: Atavismus and Peder Johnsen